THIS IS FOR MOMS WHO WANT TO EARN AN INCOME AND FULFILL THEIR POTENTIAL WITHOUT SACRIFICING TIME WITH THEIR KIDS.
Start a Teepee Sleepover Business is a revolutionary plan to get paid
while spending more time with your kids… In 28 Days Or Less!
Hey there, rockstar mama!
Are you longing to be able to stay at home with your kids, but you don't know how to make it work financially? 
Do you feel like you can't maintain a work/life balance? 
Are you struggling to head back to work after maternity leave because you don't want to leave your baby and spend your income on daycare? 
You only want to give yourself and your family the best life. But you can't seem to find a way to make that happen. You might feel like you're stuck in this same place and that you'll never get out. 
You want to be able to provide for your family so you can all live a more comfortable life. 
You want to escape from the stress and exhaustion that come from your 9-5. 
You're not even sure where to begin though. 
It almost seems like there aren't any options that will achieve whatyou're hoping to find.
It's time for you to take a leap and create something of your own so you can truly live a fulfilling life.
ARE YOU TIRED OF MISSING OUT ON TIME WITH YOUR FAMILY
WHILE WORKING LONG HOURS AT AN UNFULFILLING JOB?
It's been hard for you to find any options that are remotely close to what you want to be doing with your life. Maybe you've tried…
Joining a multi-level marketing company (MLM), but you haven't been very successful.
Crunching the numbers to try to find a way to stay home with the kids, but you can't seem to make it work. 
Searching for a job that is less stressful and requires less time, but you'd have to give up your income, taking you back to square one.
You feel like there's not much else to try, but you don't want to continue to struggle like this. You are desperate for another option.
When you had your kids, you wanted to be able to spend time with them. 
You chose a career that you thought might bring in money. 
Or you found a way to be a stay-at-home mom, but you feel bad that your partner is working so hard. 
Or you are almost done with your maternity leave, and you're realizing how much daycare costs and that you'll be spending your whole income on it.
So, you're searching for the perfect opportunity for you to care for your family while still bringing in income. 
You just need a little help finding a solution. 
YOU NEED TO FIND A WAY TO BRING IN INCOME, FEEL MORE FULFILLED, AND CARE FOR YOUR KIDS.

AND I HAVE JUST THE THING!
Hi, I'm Tara Bailey – I am a qualified teacher with a BA Hons in Education. I love kids and I always imagined a long career in childhood education.

That dream was halted hard when I had five sons with medical challenges. Three of my boys have a blood condition called Haemophilia, and one also has a rare heart condition. 
As you can imagine, it was difficult to earn a living in between doctor's visits and raising five medically fragile boys. 
It was...until I launched a successful business. But not just any business. I launched a rather unusual business that allowed me to make money by spending time with my kids. Win-Win.
What was this unusual dream business?
For the last five years, I have been running a 

teepee sleepover business.
This business has given me the opportunity to spend time with my kids while still providing for my family financially.
I have won several awards for my work, including:


Business Mum of the Year 2019 Highly Commended Award 

Women in Business #WOW Winner 

Federation of Small Business Awards 2018  

Triumph Over Adversity Award 

New Start Business of the Year 2018 by the Yorkshire Choice Awards 

Small Business Saturday and Small Business Saturday UK 

Theo Paphitis' Small Business Sunday 

Twitter awards: #TweetUrSis and #TwitterSisters

Hike Those Likes Market Place Biz Winner of the Week

Queen of Children's Teepees by The Royal Connection
With this success, I began helping other moms build their own businesses. Even if they don't know a lot about the industry or running a business at all, I am able to help them start providing for their families and bring in an income.
It is my mission to help other moms be able to stay home with their kids while earning money. 
The impact of this business model is beautiful to witness. I ran a Sleepover Business Bootcamp which has taken another mom from having no business to regular bookings within 3 weeks of starting the 5-week course. 
Clients like her encourage me to continue helping others. I saw the way that the bootcamp transformed her family life and her personal life. I want to see the same thing happen to more moms around the world so they can live more fulfilling lives.
YOU MAY HAVE THOUGHT IT WAS IMPOSSIBLE
TO BALANCE WORK AND LIFE,
BUT I HAVE FOUND A WAY AND THERE IS HOPE.
You're not alone. So many moms out there are desperate to have work/life balance. They want to provide for their families, but they don't want to give up precious time with their kids, especially when their kids are young.
It is possible for you to bring in income while still spending time with your family. You don't have to keep sacrificing your sanity, family time, and satisfaction.
You simply need the right strategy and resources to make it happen.
It's time to stop stressing out about your job outside of the home.
It's time for you to stop feeling guilty that your partner is working so hard for the family.
It's time to quit throwing away your money for childcare.
Do you want to stay where you are, or do you want to make a change and start living a more fulfilling life in 28 days?
If you don't take advantage of this opportunity, when are you ever going to make a change? 
START LIVING A LIFE THAT BRINGS YOU JOY AND FREEDOM.
Working with moms just like you to launch their very own teepee sleepover businesses, I have seen amazing things happen in just 28 days. 
I have seen moms go from feeling stressed, overworked, and underpaid to feeling excited and eager about this major step in the right direction.
That means I know I can help you achieve the same results. Like the other women I have worked with, You can work through your fears. You can believe in yourself. 
I know how to make this business plan work for you, and I want to help you get started. 
READY TO STOP MISSING OUT ON YOUR KIDS' LIVES

WHILE STILL EARNING AN INCOME?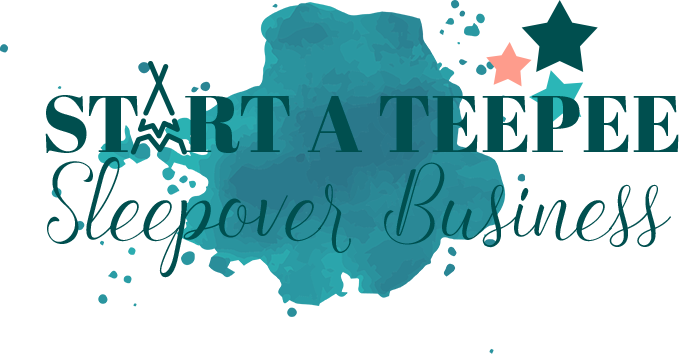 THE 28-DAY CHALLENGE TO GET YOUR BUSINESS SET UP &
RUNNING LIKE CLOCKWORK!
In this challenge, you will learn all the steps you need to take to set up and launch your own Teepee Sleepover business, including:
The legalities behind setting up a business
The admin systems that will help your business run like clockwork
The type of insurance you need 
The approved equipment and suppliers 
An introduction to social media and marketing


The best part of this challenge is that you will get access to EVERYTHING you need in order to run a successful teepee sleepover business! 
You are obviously eager for a change in your life because you want to spend time with your family, quit your stressful job, bring in more money, and live a more fulfilling life. You just haven't been able to figure out how to do it until now. It's time for you to take this leap and start seeing a real change in your life. You can't keep living this way.
So, are you ready to do this?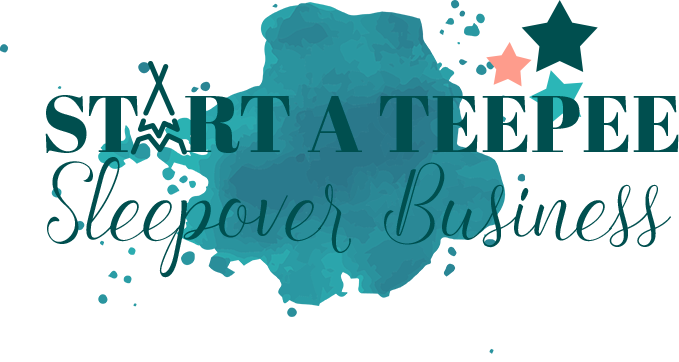 Get Your Business Set Up & Running Like Clockwork In 28 Days Or Less!
An easy to follow, totally do-able business plan that helps moms start their own Teepee Sleepover business, so they can earn an income while spending more time with their kids.
HERE'S WHAT YOU'LL FIND INSIDE
In this 28-day challenge, you will receive a blueprint for your very own teepee sleepover business. 




You will be able to get your business up and running in less time because so much of it is done for you. You will have access to a lot of the resources you need to be successful in this business, making this the quickest way for you to start a business.




You're not doing this all on your own! You will receive:
The Targeted Goals Jumpstart (Value: £47)
This section, delivered via video content and bonus PDFs, supports you in creating a crystal clear business vision with both short-term and long-term goals. You will experience a massive mindset shift, empowering you to embrace this journey with positivity and resilience.
The Business Operations Made Easy Series (Value: £97)
This section will show you the ropes of operating a business so you can do it all, even if you haven't before. By the end of this series, you will understand insurance and safety requirements for your Teepee Sleepovers, risk assessments, data protection, privacy policies, administrative documents and systems, and the booking forms you need to gather customer sign ups. You will transform from mama to business master!
The Success Systems Roadmap (Value: £97)
In this section, you will become familiar with the different equipment and systems needed to run a successful teepee sleepover business, including what you need for teepee delivery, set-up, collection, and cleaning down. 
The Sleepover Sales Framework (Value: £97)
In this section, you will get everything you need to bring in traffic and customers to your business. You will know where to find prospective buyers, how to get them to book with you, and what to do to get them coming back and referring their friends your way.
But today it's nowhere near that.
I know that you are in a place where you're eager to bring in some extra money. You're desperate for a change in your life. So, when I created this challenge, I wanted to make it accessible to all kinds of families. I wanted it to be an opportunity that would transform your life! 
I didn't want to charge too much and prevent anyone from being able to live out their dreams. So, I priced it way lower than it's worth.
So, if you're ready to create a better work/life balance, it's time to sign up for…
£338 Value
Everything That's Included…
The Targeted Goals Jumpstart (Value: £47)

The Business Operations Made Easy Series (Value: £97)

The Success Systems Roadmap (Value: £97)

The Sleepover Sales Framework (Value: £97)
WHAT OTHER MAMAS ARE SAYING…
It's Worked For Other Women And Now It's Your Turn
To Experience A More Fulfilling, Joyful Life!
Have the flexibility to stay home with your kids! 
Bring in more income! 

Quit your stressful, unfulfilling job! 

Avoid spending thousands on childcare!
Most of all, you will finally live a more fulfilling and joyful life!
If you're ready to give yourself a real shot with a flexible,
income-generating business that fits perfectly with
motherhood, it's time to get started...
Everything That's Included…
The Targeted Goals Jumpstart (Value: £47)

The Business Operations Made Easy Series (Value: £97)

The Success Systems Roadmap (Value: £97)

The Sleepover Sales Framework (Value: £97)
FREQUENTLY ASKED QUESTIONS
Everything That's Included…
The Targeted Goals Jumpstart (Value: £47)

The Business Operations Made Easy Series (Value: £97)

The Success Systems Roadmap (Value: £97)

The Sleepover Sales Framework (Value: £97)
Teepee Sleepover Business - All Rights Reserved